---
Elisa Muliere, artista classe 1981 di Tortona, vive e lavora a Bologna.

La sua produzione spazia dal lavoro pittorico su tela e carta alla sperimentazione di altre forme di ricerca come installazioni, scultura e prodotti editoriali. Da oltre un decennio espone in diverse mostre personali e collettive, in Italia e all'estero.

Nel 2014 ha pubblicato "Icaro deve cadere", edito dalla casa editrice GRRRz Comic Art Books di Genova, presentato in diversi spazi tra cui la VII Biennale Internazionale dell'Illustrazione di Lisbona "ILUSTRARTE", il Treviso Comic Book Festival, la Galleria Il Vicolo (Genova), lo spazio espositivo Adiacenze per BilBOlbul '14, con installazioni ad esso dedicate.
Del 2018 "Il mio regno" ( Edizioni Sido), rivisitazione in chiave contemporanea del celebre racconto "Il principe felice" di Oscar Wilde.

Interessata ai territori dell'inconscio, al pensiero non lineare, alle aree di contaminazione, la sua ricerca si concentra – mediante un linguaggio trans-disciplinare – sull'indagine delle complessità insite nell'animo umano narrandone possibili contrasti, bellezze, armonie e disarmonie, tensioni. Attraverso una pratica intima, compone visioni che dal personale tendono all'universale.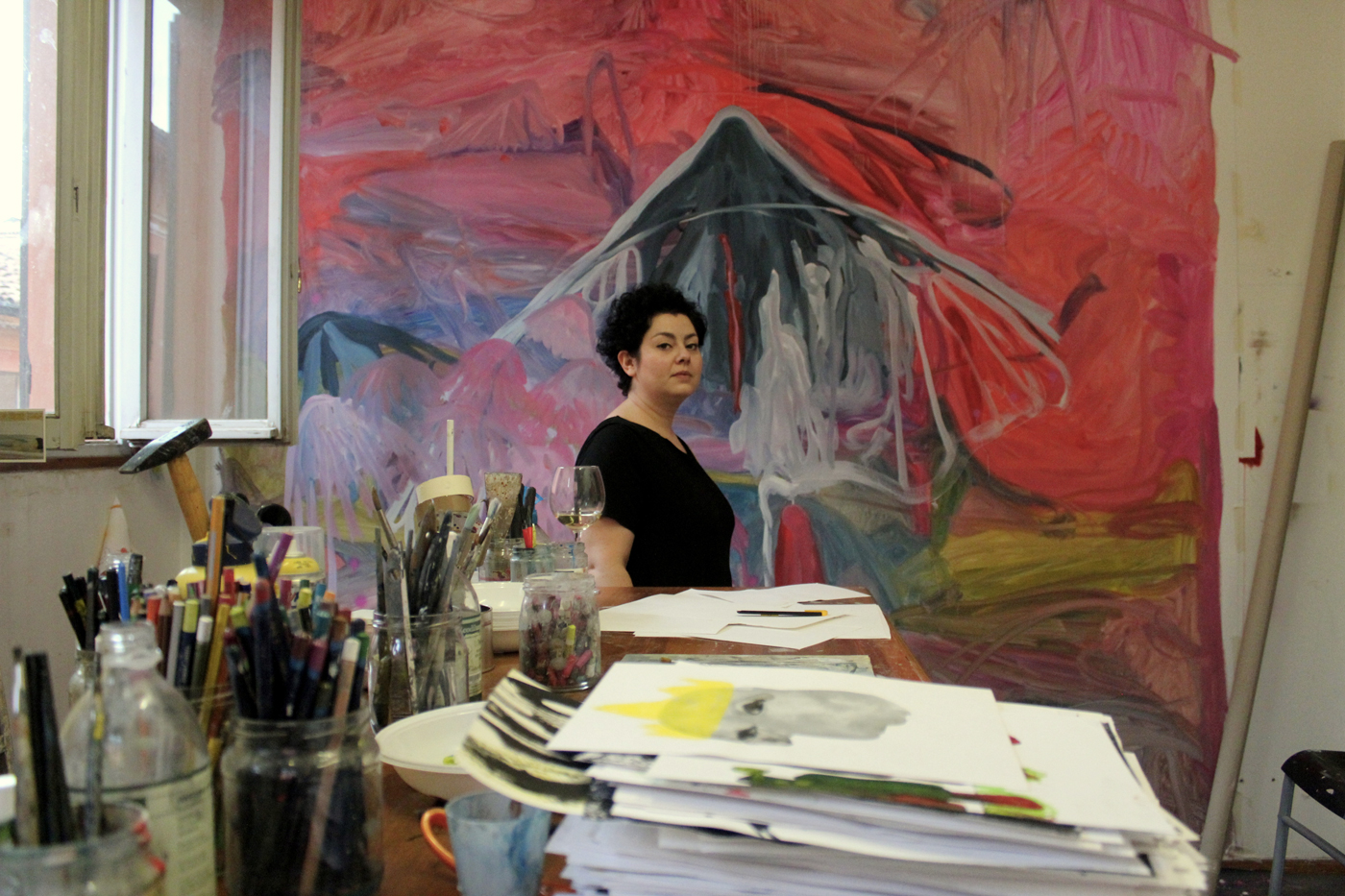 EDUCATION
"2008 / 2005 "Master's Degree in Painting | Academy of Fine Arts Clementina, Bologna (IT)
"2007 "Erasmus Programme | Université Paris 8, Saint Denis, Paris (FR)
"2000 | 2005"Degree in Painting | Academy of Fine Arts Clementina, Bologna (IT)
"2008"Workshop REGALI E REGOLE. Prendere, dare, sbirciare nel museo with Stefano Arienti e Cesare Pietroiusti, MAMbo Museum, Bologna "

MOSTRE PERSONALI
"BLOSSOM", Uovo alla Pop Gallery, Livorno, 2019
"ENSEMBLE", Supergiovane, Milano, 2019
"IL TEMPO SEI TU CHE LO DECIDI", curated by A. Zannoni, Galleria Adiacenze, Bologna, 2018/2019
"RAMRAM",double solo show with Stefano Ronci, curated by A. Mariotti e D. Tozzi, Casa della Cultura Italo Calvino, Calderara di Reno (BO), 2018
"PORTRAITS _ RITRATTO ATTRAVERSO UNA MOLTITUDINE", curated by N. Grasso, CRAC Centro di ricerca per le arti contemporanee, Lamezia Terme (CZ), 2016
"TWINS", curated by A. Mariotti e D. Tozzi, Musei Civici, Tortona (AL), 2016 "POLAR PRIVACY", curated by A. Mariotti e D. Tozzi – CUBO UNIPOL "Macrocosmi" Project, Werkstattga- lerie, Berlin, D, 2015
"ICARO DEVE CADERE TOUR"
Gogol & Company, Milano, 2015
TCBF - TREVISO Comic Books Festival, Treviso, 2015
Galleria Il Vicolo, Genova, 2015
Spazio Espositivo Un_type, Parma, 2015
NB Notabene, Torino, 2015 Spazio Espositivo Adiacenze, Bologna, 2015
"QUALCOSA SULL'ANIMA", curated by F. Liotta, Spazio Mondadori, Alessandria, 2012
"ROOTS", curated by A. Mariotti, D. Tozzi e E. Modena, Adiacenze, Bologna, 2011
GROUP SHOWS AND OTHER PROJECTS
"VISION OF IMAGE", group show, EU HORIZON 2020, curated by Adela Machova, Usti Nad Labem House of Arts, Czech Republic, 2020
" INVENTARIO VAROLI. Della copia e dell'ombra", group show, curated by Massimiliano Fabbri, Museo Civico Luigi Varoli, Cotignola, 2020
"PROSPETTIVE", urban project - with Giulio Zanet, curated by Amerigo Mariotti e Daniela Tozzi, Spilamberto, 2020
"POST DISSIPATIO", web project, curated by Francesca Palmieri for La Galleria Nazionale, Roma, 2020
"INEDITO", virtual project, curated by Chiara Ronchini, Crac Arte Contemporanea, Terni, 2020
"THE COLOURING BOOK", web project, curated by R. Farinotti and G. Biancuzzi for Milano Art Guide, 2020
"FIORI D'ARTIFICIO", group show, curated by Andrea Rodi, Burning Giraffe Art Gallery, Torino, 2019
"SELVATICO 14 _ Atlante dei margini, delle superfici e dei frammenti", group show, curated by di Massimiliano Fabbri, Museo Civico Luigi Varoli, Cotignola (RA), 2019
"INTERNATIONAL LASER PRINT SHOW", art fair, curated by D. Moalli e M. Marelli, Wopart, Lugano, 2019
"NOW NOW. Quando nasce un'opera d'arte", group show, curated by Casa Testori (D. Dall'Ombra, L. Fiore, G. Frangi, F. Radaelli), Rimini, 2019
"TUTTIFRUTTI", group show, curated by Supergiovane, Stecca 3.0, Milano, 2019
"VEDO A COLORI",wallpainting, curated by G. Vesprini, Civitanova Marche, 2019
"X ANNI DI PREMIO NOCIVELLI", group show, curated by Ass. Cult. Techne, MO.CA, Brescia, 2018
"MARTELIVE", festival, wallpainting 'Nessuna paura' curated by A. Sciarra/Alinea, Roma, 2017
"EGO SUM LUX MUNDI", group show, curated byJ.P. Denefve, Koma Gallery, Mons, B, 2017
"RELIQUAIRE", group show, curated by A. Mariotti e D. Tozzi, Adiacenze, Bologna, 2017
"ANOMALIE", group show, curated by M. Gentili, Parco Ex Ospedale Psichiatrico Santa Cristina, Macerata, 2017
"UOVO ALLA POP", collettiva a cura di Valeria Aretusi e Libertà progetto artistico, Galleria Uovo alla Pop, Livorno, 2017
"DELICIOUS _ THE SHOW",group show, curated by F. Riccioni, Adiacenze, Bologna, 2017
"BOUNCE/PILLOLE DI INDAGINE SUL DESIGN CONTEMPORANEO", group show, curated by Adiacenze, Bologna Design Week, Adiacenze, 2016
"ART ON _BIENTINA", Festival, curated by Progetto Artistico Libertà, Bientina, 2016
"SOMETIMES… WITH MYSELF", group show, curated by N. Mohammadi, FARZAD Art Gallery, Mashhad, IR, 2016
"IMPRUNETA ON FIRE!", festival, curated by Progetto Artistico Libertà, Fornace Massimo Carbone, Impruneta (FI), giugno 2016
"ILUSTRARTE", VII biennal international exhibition of illustration , curated by E. Filipe, Electricity Museum, Lisbon, P, 2016
"ART ON CASCINA", group show, curated by Libertà Progetto Artistico, Cascina (PI), 2015
"RICHIAMI - ESPERIENZE DI ARTE CONTEMPORANEA AD ALESSANDRIA", group show, curated by Carlo Pesce, Alessandria, 2015
"ARTE NEL PROGETTO", group show, curated by Marie Honzikova, Galleria Studio 44, Genova, 2015
"AL LIMITE, SCONFINO", group show, curatd by A. Mariotti, D. Tozzi e E. Scigliano, Forte Stella, Monte Argentario (GR), 2014
"THE OTHERS 2013", international art fair, stand Adiacenze, Le Nuove, Torino, 2013

ART RESIDENCY, ART PRIZES
"PROSPETTIVE. Visioni nella città tra memoria e futuro", art residency, Rocca Rangoni, Spilamberto (MO), 2020
"TACI. ANZI, PARLA", finalist, call for video promoted by La Galleria Nazionale, Roma, 2020
"ISOLA DI COMACINA", art residency, promoted by Brera Fine Arts Academy, Tremezzina (CO), 2018
"CRAC _ CENTRO DI RICERCA PER LE ARTI CONTEMPORANEE", art residency, Lamezia Terme (CZ), 2016
"ARTEAM CUP", International art prize | Finalist, Palazzo Monferrato, Alessandria, 2016
"ILUSTRARTE", Biennal international exhibition of illustration | Finalist, Lisbon, P, 2016
"ART ON CASCINA",public art prize, winner of the critics prize, Cascina (PI) 2015
"PREMIO NOCIVELLI", first prize winner _ painting over 25, Verolanuova (BS), 2011

WORKSHOPS CONTUCTED

"STANZE", experimental painting laboratory, ToscanaLab, Firenze, 2019
"PIPEPI", experimental painting laboratory, ToscanaLab, Firenze, 2018
"METROCUBO", with Lara Tonello and Wasp, CUBO Unipol, San Donato Milanese, 2018
"METROCUBO", with Lara Tonello and Wasp, CUBO Unipol, Torino Lingotto, 2017

ARTBOOKS
"IL MIO REGNO",artbook, Casa Editrice SIDO, ISBN 8894293556, 2018
"ICARO DEVE CADERE", artbook, GRRRz Comic Art Books, ISBN 8788896250297, 2014

SELECTED PUBBLICATIONS
"HESTETIKA MAG", interview, vol.36, Habitare_The Boga Foundation, ISSN 2039-2664, 2020
"SELVATICO 14", catalogue, Grafiche Morandi Fusignano, ISBN 9788885449428, 2019
"NOW NOW. Quando nasce un'opera", catalogue, Casa Testori, ISBN 9788894321081, 2019
"SMALLZINE", interview, free press art magazine, Box Art & co., 2019
"ENSEMBLE", catalogue, 2019
"X ANNI DI PREMIO NOCIVELLI", catalogue, Silvana Editoriale, 2018
"ARTEAM CUP 2016", catalogue, Vanilla Edizioni, ISBN 9788860573469, 2016
"ILUSTRARTE 2016", Biennal international exhibition of illustration, catalogue,Ver Pra Ler, ISBN 9789899881211, 2016
"NURANT ILLUSTRATION MAG", ISSU 22, art magazine, april 2016

ONLINE
"TACI. ANZI, PARLA",La Galleria Nazionale, Google Arts & Culture, 2020
"VISION OF IMAGE", Usti Nad Labem House of Arts, 2020
"EXIBART",interview by V. D'Argenio, 2020
"ARTSLIFE", interview by A. Manetti, 2020
"SUPERCALL", interview by L. Fiore, 2020
"HESTETIKA MAG", studio visit online, 2020
"A CASA TUTTI BENE", interview, Espoarte, 2020
"ARTSLIFE", interview by L. Zuccala, 2020
"KOONESS", with Supergiovane, 2019
"BLOSSOM", Virtual Reality Exposition, Virtualmente Art, Uovo alla Pop, 2019
"A COLPI DI MATITA 3.0", interview, 2016
"ARTWORT", article by F. Luciano, 2015
"IL FATTO QUOTIDIANO", interview by Virginia Tonfoni, 2015
"GRRRZ CAB", interview by V. Barbera, 2015